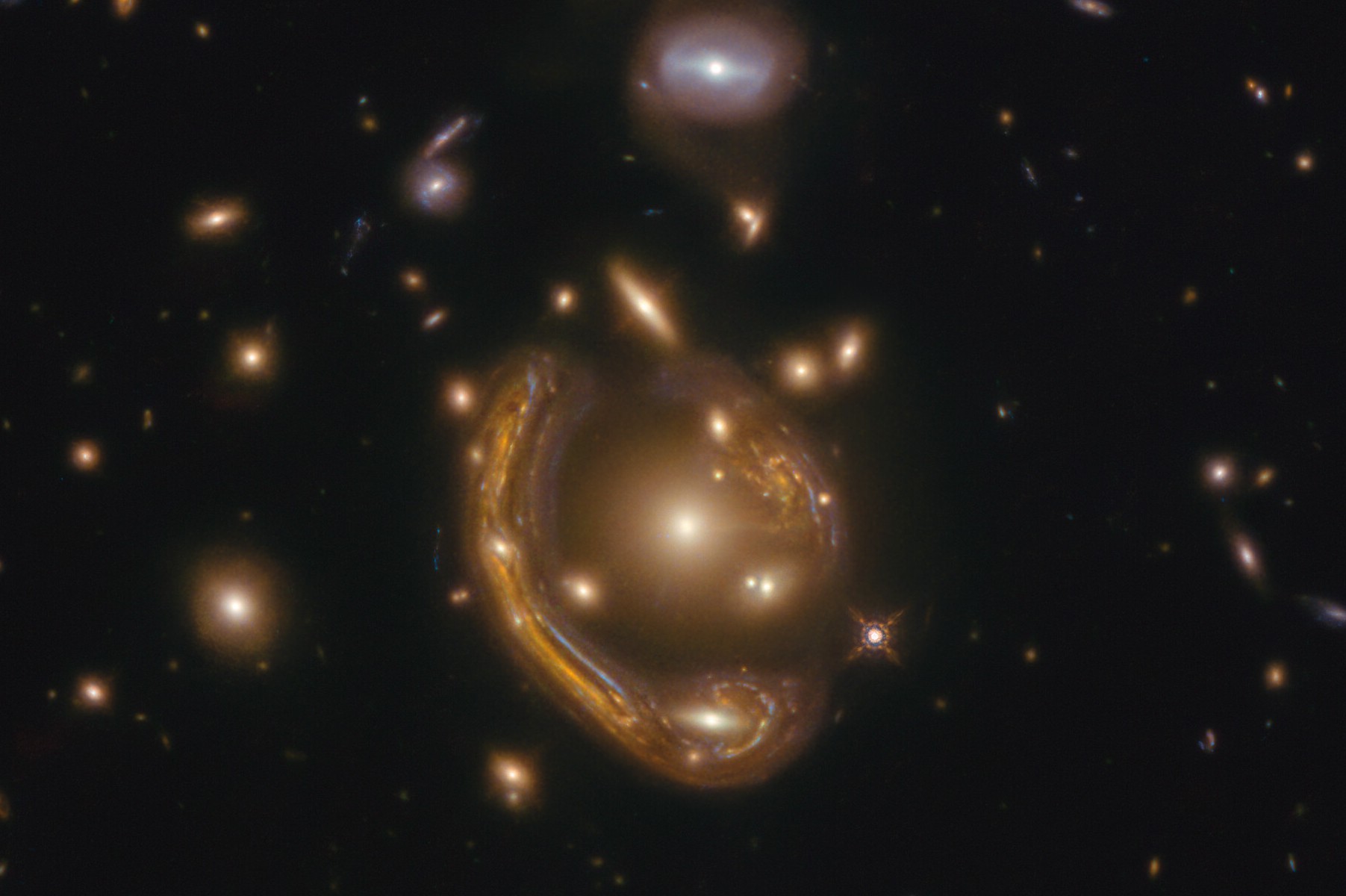 Créditos: NASA / ESA / Hubble / Saurabh Jha, Rutgers the State University of New Jersey / L. Shatz.
(Pulsar foto para ampliar / Press photo to expand)

Esta imaxe do Hubble mostra GAL-CLUS-022058-38303, o anel Einstein máis grande e case completo coñecido. A imaxe está composta por observacións da cámara de campo ampliado 3 (WFC3) do telescopio Hubble nas partes infravermellas e ópticas do espectro. Usáronse tres filtros para probar varias lonxitudes de onda. A cor resulta de asignar tons diferentes a cada imaxe monocromática asociada a un filtro individual. O obxecto parece sacado dunha pintura de Salvador Dalí, pero é completamente natural.
Pulsa sobre este enlace para ver a imaxe ampliada.
GAL-CLUS-022058-38303, situado na constelación do Forno (hemisferio sur), ten un diámetro de aproximadamente 20 segundos de arco.
Foi alcumado Anel fundido, que alude á aparencia que ten dentro do cúmulo de galaxias onde se localiza. Este espectacular obxecto é o resultado da desviación dos raios luminosos por mor dunha lente gravitacional orixinada pola galaxia elíptica do primeiro plano que dista de nós uns 4.000 millóns de anos luz.
O anel mostra dúas galaxias extremadamente distantes (quizais interactuando), dando lugar a arcos dobres con notables diferenzas de cor.
Einstein, na teoría xeral da relatividade, teorizou por primeira vez a existencia destes obxectos que se poden explicar por un proceso chamado lente gravitacional. A luz que brilla desde moi lonxe é dobrada e atraída pola gravidade dun obxecto pesado que se sitúe entre a súa orixe e o observador.
Neste caso, a luz da galaxia de fondo deformouse ata converterse nunha masa curvada debido á poderosa atracción gravitatoria do cúmulo de galaxias situado diante dela.
O aliñamento case exacto da galaxia de fondo coa galaxia elíptica central do cúmulo, visto no medio desta imaxe, deformou e ampliou a imaxe da galaxia de fondo ao seu redor nun anel case perfecto. A gravidade doutras galaxias do cúmulo tamén causou distorsións adicionais. Obxectos coma estes son o laboratorio ideal para investigar galaxias demasiado distantes e tenues como para poder ser vistas directamente.